About Australian Roller Mills
Experts in highly accurate and low-maintenance roller milling machinery
Roller Mills Toowoomba
Based central to local Darling Downs feeding lots, Australian Roller Mills specialise in the design, construction, installation and servicing of precise roller milling machinery.
Made from readily available and high quality Australian-made Hardened Steel parts, our roller mills combine safety and easy maintenance into their designs while milling grain with greater precision. Our products are ideal for converting Corn, Wheat, Barley, Oat and Sorghum into the required particle-size for Pigs, Poultry and Cattle.
Our Experience
We have 20 years experience in servicing and maintaining roller mills and have worked across a wide variety of brands and types of roller mill machinery. This exposure has allowed us to identify the pros and cons of various designs and determine the ideal parts and material to engineer our own longer-lasting, quality products to achieve greater accuracy and easy operation.
Our Servicing Capabilities
We service all brands of Roller Mills, including R&R Roller Mills and Ferrell-Ross Roll Manufacturing. We offer onsite roller change and installation, bearing checks, replacements and structural steel manufacturing.
To learn more about our business or our capabilities, submit an enquiry to our team below.
Enquire Now
Why Choose Our Roller Mills?
Added Safety
Our machinery features a fully-guarded design to increase safety from moving parts and pinch-points while also minimising maintenance with high quality, sealed bearings.
Peace of Mind
Our designs are compliant with AU safety standards, can be shipped Australia-wide and include 1 year warranty. We also offer a guided setup process - either face-to-face or over the phone - because we understand not one size fits all.
Greater Accuracy
Australian Roller Mills designs include a unique visual metric measurement guide to simplify the adjustment process between different grinding sizes. Our accurate milling design produces better quality feed resulting in a significantly reduced dust generation and a higher nutritional value. We have also built-in a feed control to better manage flow rate.
Improved Design
Our rollers have been specially machined for regrooving which prolongs life for up to 10x longer than a regular roller and promotes the reuse of parts, normally ending up in landfill.
Australian Roller Mills' unique design also allows for a faster roll change - usually 2 hours compared to 1 day - significantly reducing machine downtime.
Testimonial
Phillip Coggan, Inglestone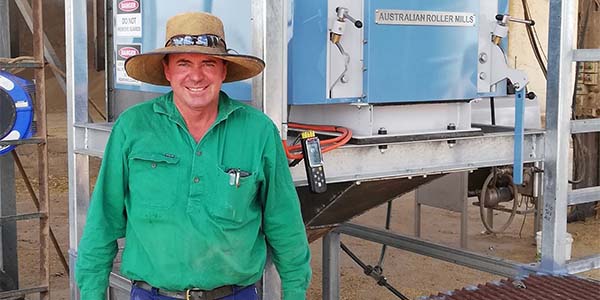 Australian Roller Mills are an excellent team to work with. I'm extremely satisfied with their cutting-edge product design, which has proven to be safer and features handy guided adjustment settings to provide consistent, higher quality products to keep up with our 15 ton/hr mill demand.

The team's installation and after-sales service is second-to-none and have also provided me with access to readily available Australian-made spare parts. I highly recommend Australian Roller Mills for servicing and new milling machinery.
CONTACT US
Make an Enquiry